Our fresh approach helps achieve success in today's digital-first world.
We help you manage regulatory, security, and operational risk boundaries while driving positive change. Our proven results foster speed and innovation to reimagine digital experiences to delight customers.
We keep the customer experience at the centre of all your business decisions, enabled by a data-driven approach.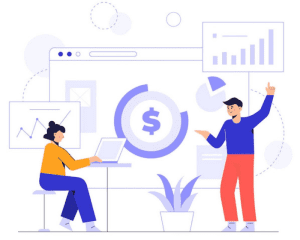 While big data technologies guarantee effective processing of enormous amounts of data, they are still useless for businesses without intelligent and meaningful results. To understand consumer behaviour and support meaningful engagements across all channels, financial entities must be able to process all pertinent information.
Customers can receive the services when they require them by using analytics to deliver actionable information.
key highlights
Deliver contextual and relevant digital experiences to improve trust.
Improve customer centricity by designing the most appropriate models using simple to use AI tools.

Better lifetime value with deeper engagement with customers' concerns preventing early churn.
Successful Financial Institutions deploy intelligent analytics solutions as well as re-engineer their risk framework to suit new Business models. Our scope of business assurance includes measuring and keeping track of revenue and cost KPIs in addition to identifying the causes of revenue leakages as well as accommodating new business models.
Our AI framework augmented with Human intelligence makes the organisation competent to deploy Active Risk Intelligence (ARI) with Business Assurance.
key highlights
Data from multiple sources – structure and unstructured data sources.
Single view of customer and business.

BI and analytics to suit business needs.
Every financial entities. faces a real-world challenge in a quest to become digital-first. We help build products with an end-to-end mindset.
From understanding the reason that they exist to ensuring they are built to succeed, we make compliance part of the process, involving them early and often. We think about how the product is built, as well as what it needs to do. This creates experiences that customers love and that your team will love creating.
key highlights
Serve customers with digital experiences they love (and trust).
Embrace cutting-edge experience tools, like AI and biometrics.

Avoid revisions and compliance concerns preventing customer-centric innovation.